Installation
The science museum "phaeno" in Wolfsburg was constructed to be a huge space for experimentation. Lots of nature phenomena are to be experienced, tested and appreciated with all senses. The Building was designed by Zaha Hadid and completed in 2006.
The big, stretched building "floats" above the ground with dynamic forms. Five "cones" anchor the accessible sculpture on the spacious square.
The main entrance of the museum is integrated into one of those "cones" and was to be emphasized.
A solution was looked for, that would preserve the sculptural unity of the building and at the same time establishing a clear communication. For this purpose an entrance area floor cover was created, holding the integrated lettering "phaeno". The shape of the cover is developed from the geometry of the entrance façade, in which the mirror-inverted and lucent red lettering is integrated. The letters are fluorescenting and mirror themselves on the inclined entrance. Due to the strong contrast between black floor cover and lucent red
letters, the lettering can be red on the glass from afar.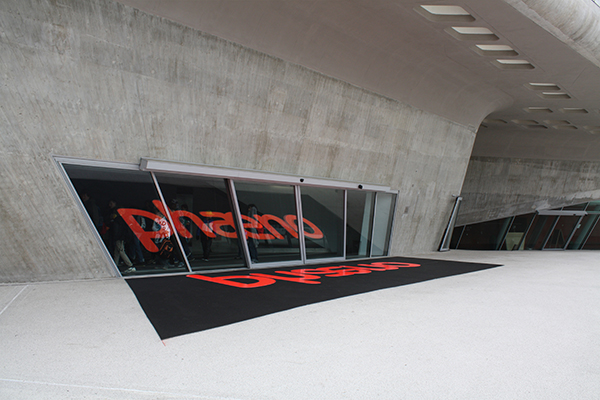 On the one hand the reflection broaches the issue of a well known perception phenomenon. On the other hand the information "phaeno" respectively "entrance" is communicated in a simple and playful manner. The actual floor cover is hardly visible from afar, thus the communication is mainly initiated via a "levitated" reflection. By leaving the architecture untouched, the intervention on the façade remains immaterial.
local conditions
The floor covering is located at the southerly aligned and highly frequented main entrance of the museum, which is exposed to the elements. At dark the entrance is lit by the lighting fromnside/foyer; additional lighting sources can be activated in the ceiling above.
installation, materiality
The new flooring extends over the width of the glazing. It reaches about 4m into the square and covers an area of about 40sq. At the sides the limitations are angular correspondent to the façade opening and surface height varies accordingly to the square's topography - 4m up to 30mm.
The new flooring is placed in position and glued, thus leaving the original untouched.
High-Grade steel 1.4571 was used to construct the lettering; the sheets forming the letters are coated with color and fitted with a slip-resistant varnish. They are inlaid into a special tub and can be taken out to replace the coating. The black ground is made of fine natural-stone granulate (granite).